Commissioner Staples' 2012 Texas GOP Speech
Meet Todd Staples
Staples Emerging as National Leader on Border Security
Todd has gained state and national attention by calling on the Obama Administration to secure the Texas border from drug dealers and human smugglers crossing Texas soil. To read more about Todd's efforts to protect the Texas border, click here.
Todd Staples "On the Record" with Greta Van Susteren discussing securing our border
Obama Not Providing Enough Protection at Border, AG Commissioner Says in Abilene
"No American should have a threshold for tolerance that allows people to be chased off their own property." To read more, click here
Todd Staples: A New Leader for Texas in 2014
At 49, Staples is one of Texas' youngest statewide Republican leaders. In addition to his current post as Texas Commissioner of Agriculture, Staples has served as Mayor Pro Tem of his local city council, as a State Representative and as a Texas State Senator. As Lieutenant Governor, Todd will dedicate himself to securing a future for Texas and Texans that reflects our conservative values and Lone Star State pride.
Nolan Ryan to Serve as Statewide Chairman for Staples
Texas legend Nolan Ryan calls Todd "The top prospect for the Texas Republican Party in 2014." To read more, click here.
Inside Intelliegence Poll shows Staples with the edge
By a wide margin, our insiders think Staples has the edge; he was the choice of 48.2 percent of respondents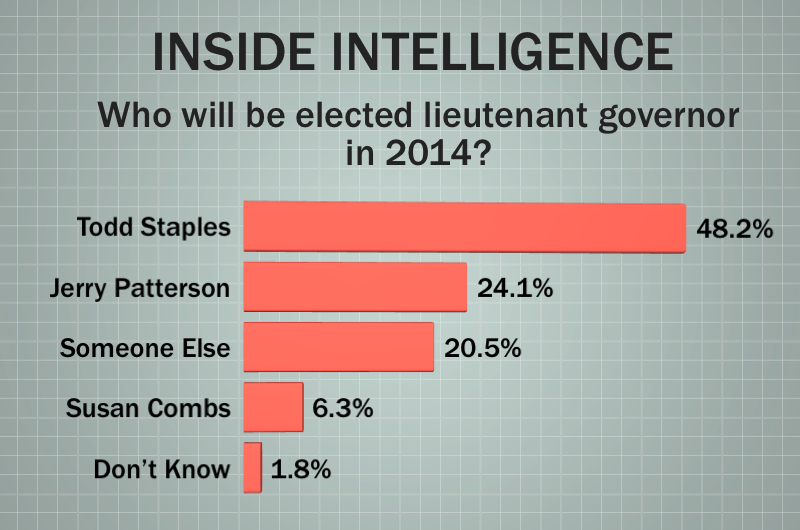 Staples Answers Questions on Leadership and His Campaign for Lieutenant Governor
You can watch Todd's interview with the Texas Tribune below...
Staples Fights to Protect Private Property Owners
As Commissioner of Agriculture, Todd has championed private property owner rights including passage of a 2009 state constitutional amendment protecting homeowners and landowners from eminent domain abuses. Recently, he helped promote the passage of additional eminent domain reform legislation in the Texas Legislature that was recently signed into law by Governor Rick Perry. To read more, click here.
Staples is a Top Rated Conservative Leader
Consistently rated one of Texas' top conservatives during his service in the Texas legislature, Todd sponsored and helped pass a state constitutional amendment defining marriage between one man and one woman, and has been consistently endorsed by prominent pro-life groups. To read more, click here.